Implant dentist in St. Augustine
Today there are many different uses for dental implants. Dental implants can be used to replace individual teeth, or full-size and mini implants can be used for denture retention. If you are interested in learning how dental implants can solve your tooth loss problem, you will want to come to our dental practice, Dental Doctors of Florida, to see our
implant dentist in St. Augustine
.
When you visit our dental practice to get dental implants for denture retention, you will be seen by our implant dentist in St. Augustine, either Dr. Christine Trunk or Dr. Merlin P. Ohmer. If you have many missing teeth, implant-supported full dentures can be used to replace them. The dental implants will not only hold the dentures securely in place, but the dental implant roots, will also help to keep your jawbone healthier. Both full-size and mini dental implants can be used for denture retention. Our implant specialists will talk to you about the different treatment options that are available to you, given your individual situation. Implant-supported dentures are made to be very long-lasting. They also are more comfortable than conventional dentures, and also will enable you to have a more natural bite and chewing ability. The first step of getting full dental implants to support your dentures is to have several dental implants surgically inserted into your jawbone so that only a few dental implants will be needed to hold your dentures. There will then be healing time during which the jawbone bonds with the dental implant roots. There are different ways to anchor your dentures to the dental implants, which can be permanently placed or made to be removable. Again, there are different options in different situations, but each case is different; our dentist will discuss your specific options with you. Mini dental implants have greatly reduced the cost of getting implant-retain dentures, and they are available to just about all patients, regardless of the thickness of the jawbone.
For an appointment to meet with our
implant dentist in St. Augustine
to learn how implant-supported dentures can help you, contact us today.
By Dental Doctors of Florida
September 28, 2017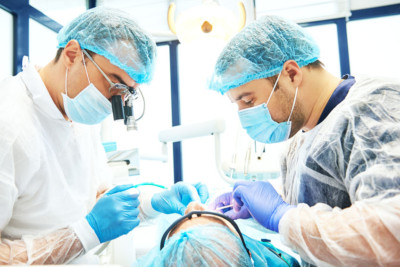 Blog Posts
Follow Us